Sister Judith is nun that works at St. Gall Hospital. In Chapter 2, Devitt meets her as she gazes out of a window, despondent about God's role in the recent deaths at the hospital. When Devitt plays a tune from a music box, the music helps her renew her faith. She quickly leaves the room. Devitt does not meet her again, but he finds her clothes on the beach.
Curiosities
Edit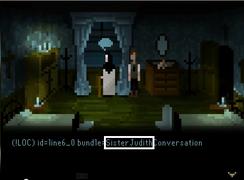 Actually,her name is not mentioned in game.so you can't know her name directly.There are two way to get some information about her.If you got The Last Door- Collector's Edition on Steam,you could get her name from her Trading Card on Steam.
Sister Judith's Steam Trading Card states:
"Sister Judith is one of the older nuns at St. Gall. She's starting to lose hope since she's witnessing lots of patients dying and that her prayers do not seem to serve."
Besides,Judith's name is informed by a technical glitch in the game.
About Achievements
Edit
Following Sister Judith,you would find her cloths and get a intriguing achievement.
The Departed
Find something left behind.
The departed may means both the poor deaths at the hospital and Sister Judith herself.And If you could still recall the name of that sea stack beside these clothes, The Lost Pilgrim, you might felt the her feelings.